…and only Turkey bats an eyelid.
The United Nations says that the people of Gaza are getting less than a quarter of the aid they need – not because the aid isn't available, but because the Israeli Government will not let it in. And when a flotilla of ships was sailing to take humanitarian aid to Gaza by sea, the Israeli army acted like pirates.
Read this BBC report and make up your own mind - The Israeli army stormed aid ships in international waters and more than 10 people on board were killed.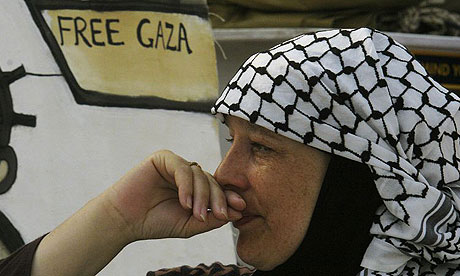 Update:
UN chief Ban Ki-moon said he was "shocked by reports of killings and injuries" and called for a "full investigation" into what happened.
The White House said the US "deeply regrets the loss of life and injuries sustained" in the storming of the aid ship.
Audrey Bomse, a spokesperson for the Free Gaza Movement, which is behind the convoy, told the BBC Israel's actions were disproportionate.
"We were not going to pose any violent resistance. The only resistance that there might be would be passive resistance such as physically blocking the steering room, or blocking the engine room downstairs, so that they couldn't get taken over. But that was just symbolic resistance."
She said there was "absolutely no evidence of live fire".
Turkey, whose nationals comprised the majority of those on board, accused Israel of "targeting innocent civilians".
"We strongly denounce Israel's inhumane interception," it said, warning of "irreparable consequences" to the two countries' relations.
Greece has withdrawn from joint military exercises with Israel in protest at the raid on the flotilla.